Gerald Kochan Receives Polish Gold Cross of Merit
At the convening of the UN General Assembly in late September, Polish Ambassador to the UN presented the Gold Cross of Merit to Gerald Kochan, Colonel (ret.), Director of the Polish American Museum and Center for Military Studies on behalf of Polish President Andrzej Duda. He was one of two to receive the prestigious award, the other being from the United Kingdom, Ms. Melissa John.
He received the medal for work alongside the Polish Army while serving as a US Army officer in Iraq and other locations. Gerald Kochan was also commended for his work in making Polish History both more accessible to the North American continent through documentaries, exhibits and multimedia projects and his work directing CMS and PAM.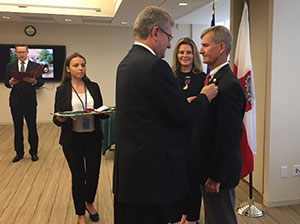 Among the well wishers attending the ceremony were President of the Board of the Polish American Museum, Ms. Barbara Szydlowski and Colonel Richard Jung, who serves on the board of the Center for Military Studies.